During the Tennessee army maneuvers in early 1944 Capt R. L. Roberts of the 78th Division Adjutant Generals section was transferred out of the division, Dad does not remember where Capt Roberts was transferred too, but says he was a good officer and well liked by the men.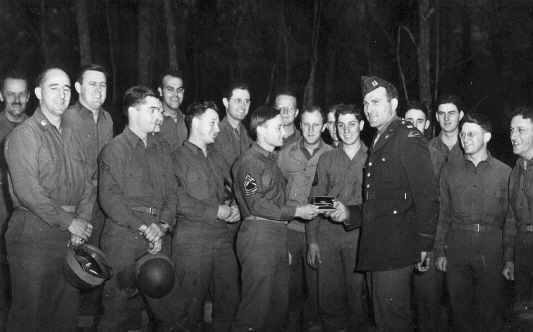 Goodbye to Capt. Roberts
Front row left to right
Col. Martineau, Cpl. Urban Holt, Sgt Edwin Edlemann, Sgt. Henry Hartel, Sgt George Roper, Sgt A.R. Miller, Capt R.L. Roberts, Sgt. bangs, CWO. John Donna.
Back row left to right
Sgt Milton Patchin, Sgt August Levert, Sgt. Charles Clowers, Sgt. Doyle Compton, Sgt. John Horn, Sgt. Frances Farrell, Cpl J.O. Evans.