Woman did there part in World War 2, click here to find out what my mom did during the war.
Before there was Email there was Vmail, click here to see and read some Vmail Dad received.
Dad, took quite few photos while in the army, there are lots of pictures of men he served with in the 78th infantry, click here to see them.
Wolfgang M. Merkel of Gummersbach/Rheinland Germany, recognized a building in a photo Dad took in April 1945, He was kind enough to take a picture of what the building looks like in June 2001. Click here to see the before and after photos.

The division newspaper the Lightning had an article about Dad in 1944 click here to read it.

August Levert Jr. Whose father also served in the 78th Division sent us some photos from his fathers collection click here to see them
Tom Vonhoff of Raeren, Belgium sent my Dad some pictures of Raeran in 2007.
They show various places that my Dad took pictures of while the 78 Infantry Division was there in December 1944 to January 1945. Click here to see them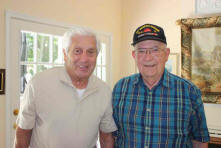 My Dad and a old Army buddy whom he has not seen since 1945 meet each other again click here to read the full story
Dads cousin Howard Maurer was killed while fighting in the Philippines, click here to see a tribute to him.
My Uncle Bud served with the Allied Forces Headquarters, click here to read his story.
We have a guest book, click here to sign it.
Email Dad at Lkjuckett@aol.com
Email Dan at a1elvisfan@aol.com
Dad saved many different documents from his time in the Army ranging from his draft card to postcards, click here to see them.
In 1992 when my Dad was 70 years old he put his WW2 memories on paper, click here to read his story in his own words.
In 1952 Dad helped dedicate a memorial to Kellogg employees who died in the war click here to read this story.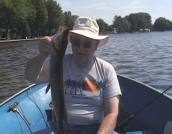 Dad Likes to fish, click here to see a video of Dad catching a Northern Pike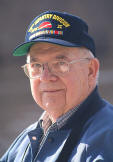 My Dad is still doing good these days. Click Here to find out what is going on in his life.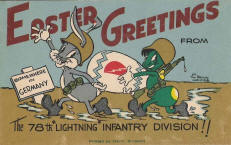 My Aunt Doris found this Easter Card my Dad sent home in 1945 click the image to see a larger view.